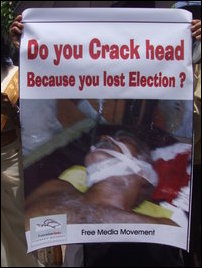 [TamilNet, Tuesday, 02 August 2011, 10:46 GMT]
Five Colombo-based media organizations held a protest campaign at Lipton Circus, Colombo, Tuesday afternoon, against the assault of Uthayan newspaper's News Editor Gnanasundaram Kuhanathan in Jaffna. Meanwhile, Sri Lankan Defence Secretary Gotabhaya Rajapaksa talking to foreign journalists on Tuesday said the attack on Kuhanathan was an 'isolated' incident and a 'petty' crime. Since year 2000, six employees of Uthayan newspaper including two journalists, Raji Varman and S.S.R. Sugirtharajan, have been killed. But the Sri Lankan authorities have not arrested a single person to date in connection with the killings.
Around 200 journalists from Sri Lanka Working Journalists Association, Free Media Movement, Sri Lanka Tamil Media Alliance, Sri Lanka Muslim Media Forum and Federation of Media Employees Trade Union participated in the protest.
Opposition parliamentarians, Human Rights activists and Christian priests joined the protesters shouting with slogans. Mano Ganesan and Wickremabahu Karunaratne.
Protesters demanded the SL government to arrest those involved in the assault and produce before courts.
Anoma Fonseka and UNP Parliamentarian Dayasiri Jayasekara also took part in the protest.