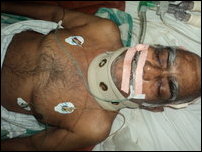 [TamilNet, Friday, 29 July 2011, 15:08 GMT]
Two unidentified men who came in a motorbike attacked the Chief News Editor of Uthayan Daily in Jaffna, Gnanasundaram Kuganathan, Friday around 7:45 p.m., causing serious injuries to the 59-year-old news editor. Till the end of war, Mr. Kuganathan was living inside the paper office for 3 years as the news paper had come under attacks by occupying SL Army-backed operatives in May 2006 and in March 2009. The staff at the paper office have been threatened by the EPDP paramilitary on several occasions. The timing of the attack signals that it was a 'punishment' by the SL military intelligence not favouring the ruling UPFA alliance during the campaign for civic elections.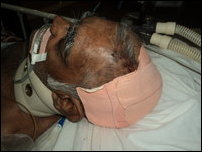 Mr. Kuganathan admitted at the Intensive Care Unit of the Jaffna Teaching Hospital, photographed on Saturday
Mr. Kuganathan sustained injuries in his head and fainted, the residents of the area said. The victim was rushed to Jaffna Teaching Hospital.
The attackers had followed Mr. Kuganathan in a motorbike while he was walking on Kasthooriyaar Road, after leaving the office. They attacked him with a sharp iron rod till he fainted.
The attack has taken place near Kasthooriyaar Road - Naavalar Road Junction which is guarded by the Sri Lanka Army.
The modus operandi of the attack was similar to that on Ramesh, the personal secretary of Suresh Premachandran MP, who narrowly escaped death from a killer squad. The attack on Ramesh came while the commander of the occupying SL Army in Jaffna openly threatened to arrest a TNA MP.
In addition to the paramilitary elements, Gotabhaya Rajapaksa, the SL defence secretary, is also grooming a killer squad operated under his eyes, informed military correspondents in Colombo said.