[TamilNet, Monday, 27 December 2010, 09:03 GMT]
Armed men who arrived in a motorbike shot and killed 52-year-old Markandu Sivalingam, the deputy director of Education, Valikaamam Zone, Sunday night at his residence in Urumpiraay in Jaffna, sending shock waves across the education sector in Jaffna. The killing of a peaceful educationalist, who recently took up the post after serving at Koappaay Teachers Training College for a long time, has taken place when Sri Lankan military had maximum deployment in Jaffna as the SL Prime Minister was visiting the city on the occasion of a Tsunami remembrance event, forcing the Tamil students to sing Sri Lankan anthem in Sinhala. Mr. Sivalingam was shot at his chest around 10:30 p.m., Koappaay police said.
A series of armed attacks have taken place in recent times in the Jaffna peninsula.
The military commander of Jaffna, Maj. Gen. Hathurusinghe made a public apology 10 days ago for the shooting incident that claimed the life of a Hindu priest in Changkaanai. The gun used in the incident belonged to the SLA, the general admitted in a press meet earlier.
The killing of Hindu priest came after Sri Lankan military threatening temples of serious consequences if any temple bell was tolled on the Heroes Day on November 27.
Now the killing of an educationalist when students of reputed schools in Jaffna were forced to sing Sri Lankan national anthem in Sinhala on Tsunami day event, has raised serious allegations on the modus operandi of the 'armed robberies' admittedly being carried out by 'gangs' that have been associated with the Sri Lankan military intelligence.
Koappaay Police brought the dead body of Mr. Sivalingam to Jaffna Teaching Hospital Sunday night.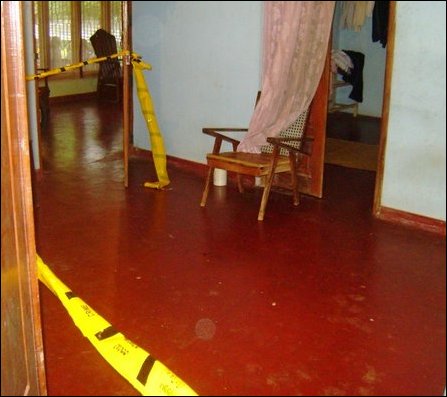 The house of Deputy Zonal Director Markandu Sivalingam at Urumpiraay